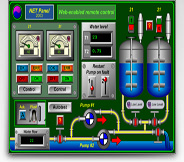 Diane Systems designs, supplies and installs systems for monitoring and control of technologic process (SCADA) in oil product terminals, systems for local and remote control of hydroelectric power station and of wind power plants.
Diane Systems designs, supplies and installs radio networks for voice and data transmition.

Industrial Strength Radios

Control Microsystems introduces the SCADAWave series of state-of-the-art digital data radios, offering ease-of-use, flexibility and advanced performance features. With tough environmental specifications and support for industry-standard protocols DNP3, IEC 60870-5-101 and MODBUS, SCADAWave radios are designed for use in the most demanding of SCADA environments. All SCADAWave products are Class I, Div 2-compliant and are backed by an industry-leading 3 year warranty.

The product line encompasses the licensed SCADAWave E and M-Series, and the unlicensed Ultra-Series, each boasting its own unique set of system configurations and functionality.

For applications requiring the complete range of communication elements, from advanced remote units to full-feature base stations, repeaters and bridges, the Ultra-Series provides all these in a single package, utilizing secure, unlicensed 900MHz spread-spectrum data transmission, innovative collision-avoidance and multiple data stream technologies.

The SCADAWave E-Series offers 450MHz half and full-duplex remote variants, as well as battle-hardened base station/repeater and hot-standby base station controller units.

The 450MHz remote M-Series returns high performance at a fraction of the cost of other comparable radios and may also be integrated with E-Series radio networks for added flexibility.

As the most powerful tool in the wireless communication toolbox, SCADAWave Manager is used to configure all SCADAWave-Series radios locally or remotely, and to provide useful system diagnostics and communication performance data, ensuring that the radio network is setup and tuned for optimum performance.

To round out the product line, optional SCADAWave accessories are offered, including Omni and YAGI antennas, an antenna duplexer and an analog voice-to-digital data stream converter.